Become a Sewell Technician and Experience the Sewell Difference
With opportunities for leadership, world-class facilities, paid training opportunities, and systems that keep you productive, Sewell is a different kind of dealership. If you are an experienced automotive technician or training to become an automotive technician and Sewell sounds like the place for you, we invite you to simply submit your name and contact information to apply for a technician career at one of our 18 locations in Texas.
Meet the Technicians
At Sewell, our obsession with customer service extends into every part of our family. We are proud to employ technicians who are talented, passionate, and dedicated to providing excellent customer service.
When you join Sewell, you join a family that supports and encourages you to be your very best. Whether you are just beginning your career as a technician or come to us with years of experience, you will join a team that challenges and prepares you to become a top producing technician.
AN ENVIRONMENT OF PRIDE
At Sewell, we believe our facilities should make you proud to come to work. To ensure that you are able to complete work in the most efficient way, our shops are always clean, safe, air-conditioned, and stocked with the most up-to-date equipment.
THE PUSH TO SUCCESS
At Sewell, we believe in the leadership potential of all of our technicians. We offer a variety of resources such as ongoing manufacturer certifications, leadership development, continuing education, and more. We are proud to hire technicians who are enthusiastic about growing professionally and helping us deliver unmatched customer service.
Technician Job Requirements

• Genuine Desire to Serve
• High School Diploma
• Automotive Technician Education or Work Experience
• Professional Appearance and Communication
• Ability to Handle Multiple Tasks
• Desire for Long-Term Career Development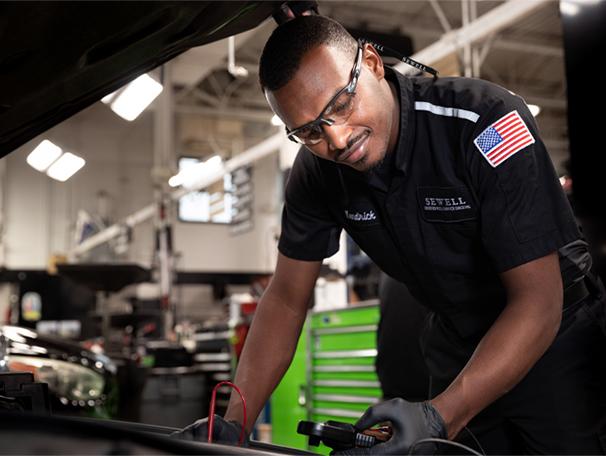 SEWELL BENEFITS
Sewell was founded 110 years ago, and it is still the family-owned business it always has been. We represent twelve automotive brands across our eighteen dealerships in nine Texas cities. And because we believe in hiring and keeping the very best people, Sewell associates enjoy a number of benefits, including:
• 401K with Company Match
• Tuition Reimbursement
• Paid Time Off after 90 Days
• Health and Dental Insurance
• Long-Term Disability
• Life Insurance
• Paid Training Opportunities
• Air-Conditioned Shops
• Health and Wellness Programs
You May Also Be Interested...